Unique Brand Presence-Ice Cream Rolls for Trade Shows
Roll Me Up offers a unique and delicious trade show ice cream rolls catering option for trade shows and exhibitions. Our ice cream rolls are made with fresh, high-quality ingredients and sustainable cups and spoons and come in a variety of flavours. Guaranteed to increase footfall. Contact us to learn more!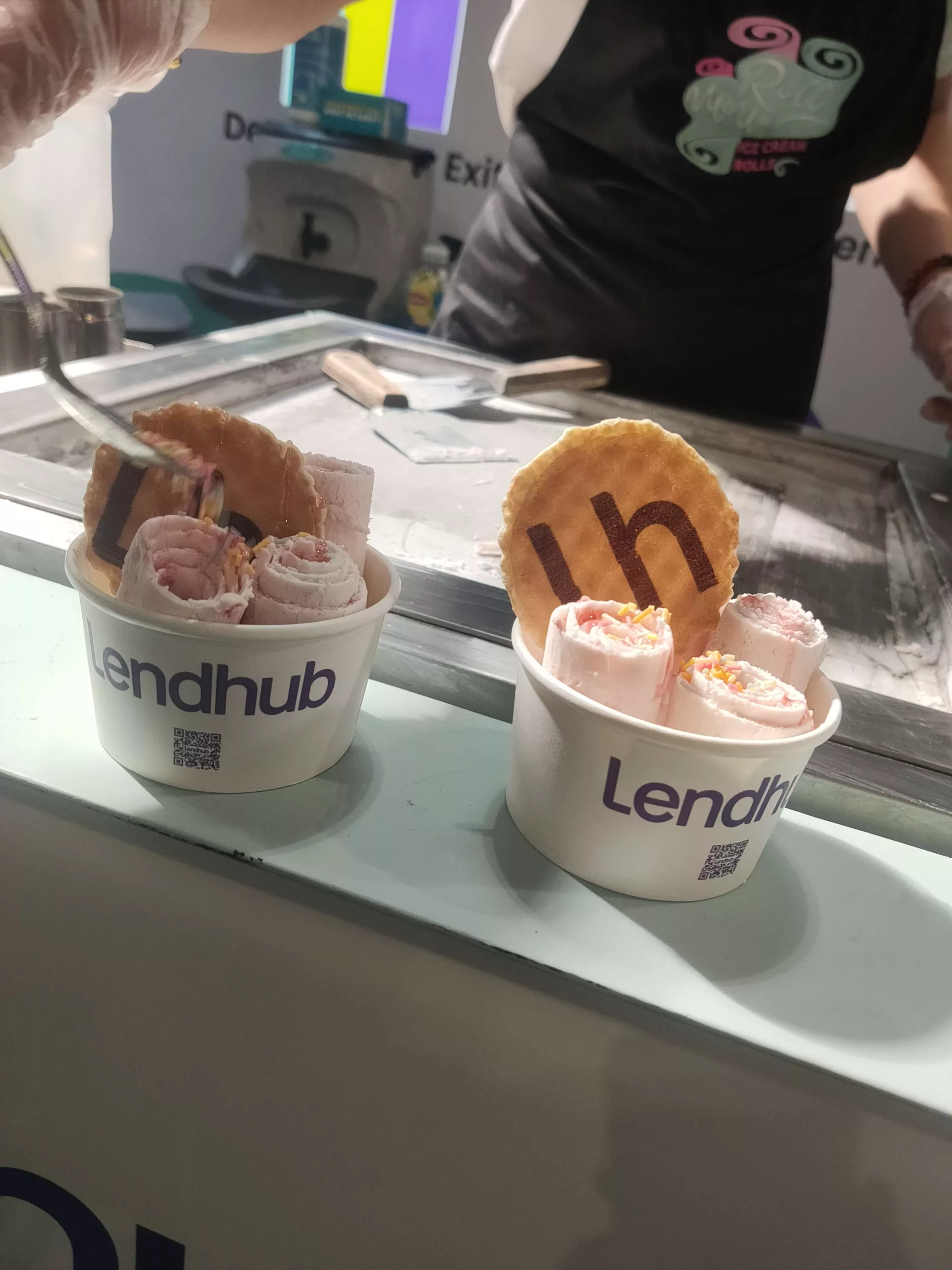 Elevate Your Expo Presence with Roll Me Up's Bespoke Trade Show Ice Cream Rolls Catering
Imagine the buzz and energy of an expo or trade show, with professionals and visitors streaming through the aisles, seeking innovation and partnerships. Now, envision your stand as the epicentre of excitement, a hive of activity and distant sounds waft through the air and the sight of expertly crafted ice cream rolls stops passers by in their tracks. This is the transformative experience that Roll Me Up's trade show ice cream roll catering brings to the exhibition —a unique, mouth watering and utterly delicious ice cream giveaway that ensures you're not just seen, but remembered.
Transform Your Stand into a Must-Visit Destination
Attracting attention in the sea of exhibitors requires a blend of creativity and strategy—Roll Me Up delivers both. Our services are designed to triple the footfall to your stand, transforming it into a bustling focal point. Engage potential clients, delegates, and professionals with an enthralling display of ice cream artistry that they can't help but gather around. This isn't just a treat; it's a strategic engagement tool, keeping visitors captivated even as your sales team is occupied.
Craft a Lasting Impression with Branded Solutions
In a realm where every detail counts, Roll Me Up offers branding solutions that make a visual impact. Picture your corporate logo on our ice cream carts, the cups handed to eager guests, the wafers peeking out of delectable rolls, and the aprons of our skilled ice cream crafters. This isn't merely branding; it's an immersive experience that elevates your corporate image and amplifies brand awareness in the most delightful way.
Achieve Your Goals with more than just a Scoop of Innovation
What's your ambition for the expo? Generating leads, nurturing prospects, or delighting loyal customers? Whatever your aim, we'll help give your stand that fascinating appeal—a magnet for visitors and potential clients, aiding you in achieving your intended objectives.
The 'WOW' Factor That Talks
Our personalised carts are your canvas, ready to be emblazoned with your branding. They're not just functional; they're conversation starters, the "talk of the show" that distinguishes your stand as a hub of innovation and enjoyment. With Roll Me Up's trade show ice cream roll catering, your presence is not just optimized—it's revolutionized.
The Guarantee of Engagement
We don't just promise—we guarantee to increase footfall to your exhibition stand as we captivate your potential clients with the most mesmerising and satisfying ice cream experience they've ever witnessed. It's not just ice cream; it's a performance that encapsulates the essence of your brand and the value of your presence at the expo.
Endorsed by Esteemed Corporate Clients
The proof is in the pudding—or in this case, the ice cream. Esteemed companies such as Santander, Deloitte, Jewson, The Access Group, and Lend Hub have not just used our trade show ice cream rolls catering but have become ambassadors of the experience we provide. They testify to the impact our unique ice cream catering service has had on their presence and success at major events.
ENQUIRE NOW to discover how Roll Me Up can transform your next expo or trade show appearance from the standard to the extraordinary. Allow us to craft an unforgettable experience for your visitors, and let every scoop of our delectable ice cream translate into a step towards achieving your business objectives.
You can book either by calling 07454627358 , emailing [email protected] or via our online contact form. Just answer a few questions  about your event and one of us will come back to you with a quote.
To secure your booking, you'll need to let the sales manager know that you would like to proceed with a quote we just require 20% deposit which needs to be paid to secure the booking. We offer a first come first served approach to bookings and no booking is finalised without a deposit. Once this has been received, your order will be confirmed.
Each ice cream roll performance takes approximately 2-3 minutes, depending on the ingredients.
With each pan we can serve ,
approximately 150 people an hour if they have 1 roll each
approximately 70 people an hour if they have 2 rolls each
approximately 60 people if they have 3 rolls each
approximately 50 people if they have 4 rolls each
Our carts are quite versatile and can be moved easily on wheels. From unloading to the area where we will be serving, we allow approximately one hour to be fully ready and serve.
Packing up takes approximately 30-45 minutes, we always leave the area how we found it.
If you require us to arrive earlier or to stay later after the event, there may be additional charges.
The ice cream roll machines don't take too much power, each machine requires a 1KW socket.
We don't require a lot of space. If you require one pan, the size is 1m x 66cm for the cart only. Plus any storage or serving space.
If you require 2 pans the dimensions of the cart is 163cm x 66cm.
All our carts fit through regular doors, and are easily transportable on wheels. Depending on the set up if we are outside we may require to use a gazebo set up which requires 3m x 3m of space.
We have worked with some of the most amazing companies in the UK. Aston Martin F1, Superdry, Salesforce, Mercedes Benz,  Daniel Wellington, GW Pharma, Jewson, HP Enterprise and Newbury Racecourse, Flamingo Horticulture, to name just a few.
Ice cream rolls, rolled ice cream, Thai fried ice cream, ice rolls, ice cream curls are an incredible and mesmerising way of making ice cream.
Originating in Thailand, liquid ice cream is poured onto frozen pans that reach -30. Bespoke ingredients (you choose the flavour) are added and this is quickly frozen and then chopped, creamed spread and rolled in the most spectacular fashion
Our carts, menus, flavours, wafers and aprons can all be personalised with your message or logo amplifying your brand presence.
Most designs are made with a simple logo although if you wish to have it professionally designed we can send over the templates required.
Please see below for printing times.
Cups at least 1 months
Wafers 2 weeks
Spoons 3 weeks
Cart 1 week
Aprons 2 weeks
Menu 3 days
We have worked with some amazing clients , this is what they have to say
Top Quality Ice cream!
The Digital Voice
I had the pleasure of using Roll Me Up for a total of 8 events, each in different locations and on different dates. I can't express enough how incredibly helpful the vendor was throughout this journey. Not only did they consistently supply top-quality ice cream, but they also went above and beyond to accommodate our sometimes challenging requests. Their professionalism and dedication made each event a sweet success. I highly recommend their services to anyone looking for an ice cream experience for their events Cameron
Lucie
INSURTECH
Roll Me Up's ice cream was a huge success at our recent conference. The flavours they create are amazing with a good mix of options, definitely something to please everyone. The ice cream is colourful and fun to watch them Roll it Up!
Jess
Bride
What a wonderful company and a delicious product! We knew we wanted roll me up as part of our wedding day from the moment we saw them, and Jason has really been on a journey with us through Covid! They have been helpful, communicative, friendly and I think easily our lowest maintenance supplier - nothing was too much trouble. The day itself was drama free and the cart itself looked fab 🤩 all the guests lovedddd the icecream, as did we and it was a magical part of our wedding day. Huge thanks to Jason and Oi, couldn't recommend them highly enough
Tom B
Warner Bros
Truly amazing ice cream that lots have described as the best they've ever had. Super friendly and an allround great service. Would hire again in a heartbeat
Sami S
Gemini Productions
,
Roll Me Up were a pleasure to have serving our crew! Their ice cream was absolutely delicious and they were so accommodating to our last minute requests & changes. Can't wait to have them back again.
Ash
I hired Roll Me Up for a pre-wedding party. Jason was absolutely brilliant, he was always available for a call prior to the event and always provided best suggestions. On the day Jason was on time, professional and provided a great service. Amazing ice cream!!! Would definitely recommend
Emma
We used Roll Me Up for our charity event with over 600 guests and received great feedback from our attendees. The visual appeal of the stall added an extra wow factor over regular scoop ice cream and the flavours were interesting and delicious! Thanks to the team for all their hard work and the friendly atmosphere they helped to create, both of which contributed to a very successful event!
Pei
I hired Jason and his team for my 18th birthday party. Due to some unforeseen circumstances, it was moved to London and despite all the extra effort and inconveniences, Jason was still willing to help serve at my party. On the day itself, all my friends were highly impressed by the rolled-ice cream, the presentation, the unlimited toppings as well as the fantastic taste. I would highly recommend Roll Me Up and am super grateful to Jason for coming out to my party!