Luxury Rolled ice cream
hire for parties and events
Roll Me Up, rolled ice cream party catering adds a new dimension to any party.
Our fun and vibrant handcrafters with an expertise in ice cream roll making, bring excitement, fun and deliciousness to every party. Our high quality luxurious Fresh Cotswold ice cream, blessed with incredibly indulgent bespoke flavours, is chopped and rolled right in front of you in the most satisfying way.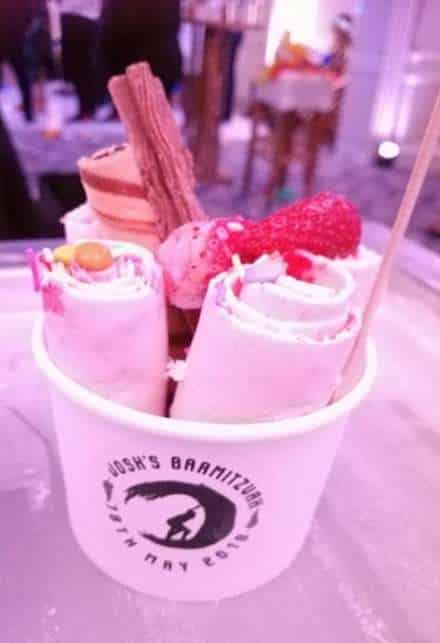 With Roll Me Up's Rolled Ice cream party catering we offer a personal and bespoke service for your celebration.
All the ice cream roll flavours will be chosen and personalised
by you for you. With many delicious and unique flavours to choose from
We don't just personalise the menu, but also offer personalised
carts too. The branded carts will suit your themed party. With Roll Me Up's ice cream roll dessert catering, we are able to
offer a variety of personalised services including
Branded carts with your logo or Insignia.
Branded cups with your logo or Insignia.
We have various packages to suit! Just enquire below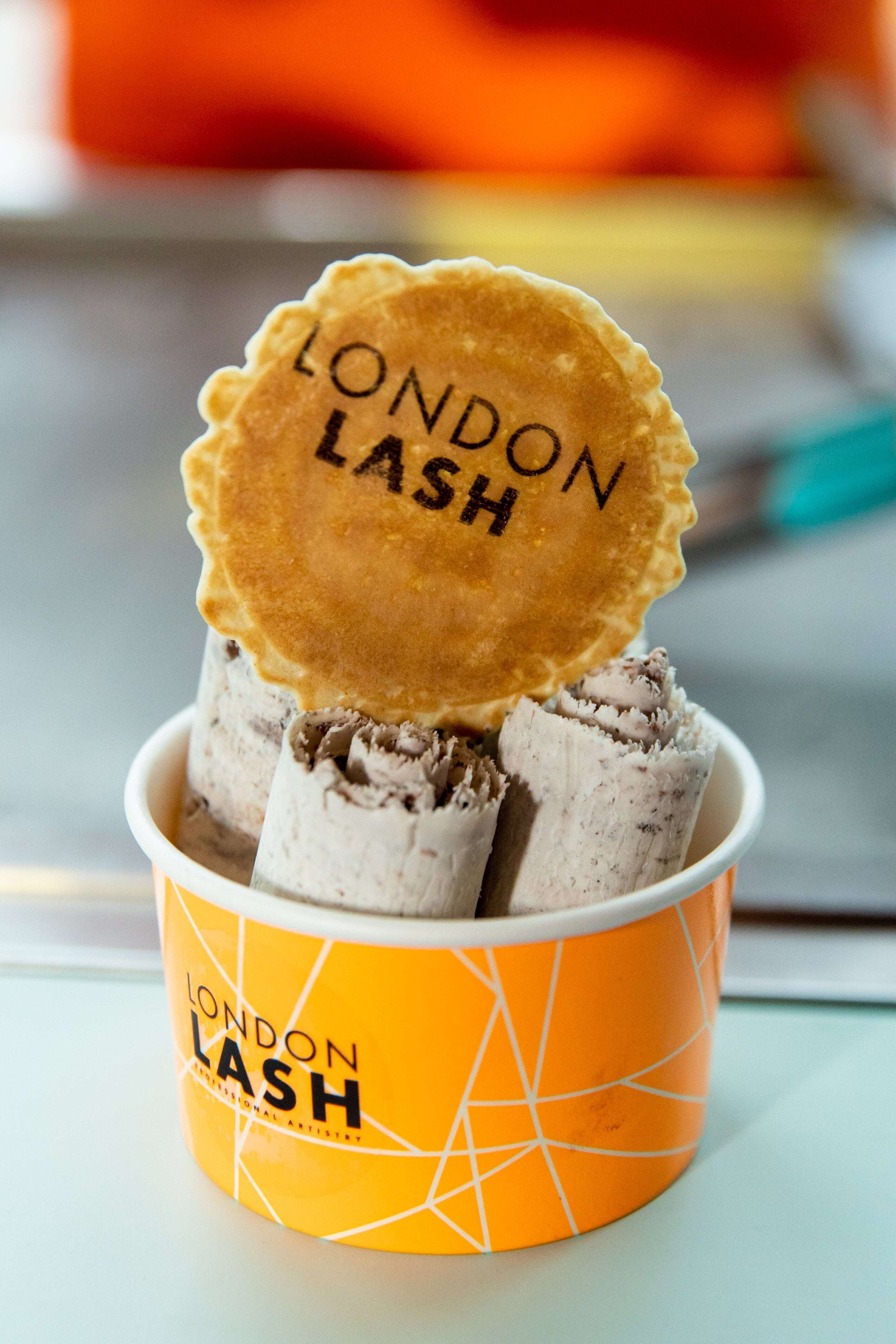 We have catered at nearly every party imaginable from Festival  birthdays, to Bar/Bat Mitzvahs, from celebrations to christenings.
Our ice cream roll party packages are all unlimited so we will stay as long as you wish. All our packages include unlimited topping station filled with delicious sweet treats such as Cadbury's Flake, sprinkles, premium wafer curls, sauces, chocolate beans and more 
We also offer alcohol ice cream flavours too. Why not enjoy a Mango Mojito, or a spiced rum and raisin?
We also offer Dairy free ice cream using Organic coconut
Fun and engaging crafters
The WOW factor
We have various ice cream roll catering packages to suit! Just enquire below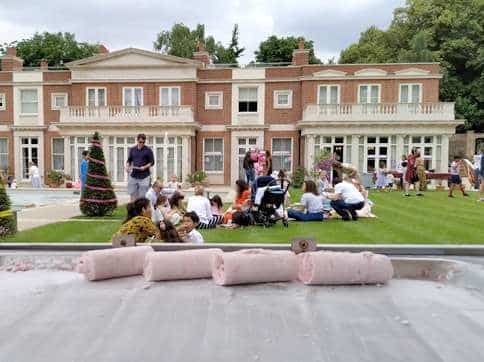 Top Quality Ice cream!
The Digital Voice
I had the pleasure of using Roll Me Up for a total of 8 events, each in different locations and on different dates. I can't express enough how incredibly helpful the vendor was throughout this journey. Not only did they consistently supply top-quality ice cream, but they also went above and beyond to accommodate our sometimes challenging requests. Their professionalism and dedication made each event a sweet success. I highly recommend their services to anyone looking for an ice cream experience for their events Cameron
Lucie
INSURTECH
Roll Me Up's ice cream was a huge success at our recent conference. The flavours they create are amazing with a good mix of options, definitely something to please everyone. The ice cream is colourful and fun to watch them Roll it Up!
Jess
Bride
What a wonderful company and a delicious product! We knew we wanted roll me up as part of our wedding day from the moment we saw them, and Jason has really been on a journey with us through Covid! They have been helpful, communicative, friendly and I think easily our lowest maintenance supplier - nothing was too much trouble. The day itself was drama free and the cart itself looked fab 🤩 all the guests lovedddd the icecream, as did we and it was a magical part of our wedding day. Huge thanks to Jason and Oi, couldn't recommend them highly enough
Tom B
Warner Bros
Truly amazing ice cream that lots have described as the best they've ever had. Super friendly and an allround great service. Would hire again in a heartbeat
Sami S
Gemini Productions
,
Roll Me Up were a pleasure to have serving our crew! Their ice cream was absolutely delicious and they were so accommodating to our last minute requests & changes. Can't wait to have them back again.
Ash
I hired Roll Me Up for a pre-wedding party. Jason was absolutely brilliant, he was always available for a call prior to the event and always provided best suggestions. On the day Jason was on time, professional and provided a great service. Amazing ice cream!!! Would definitely recommend
Emma
We used Roll Me Up for our charity event with over 600 guests and received great feedback from our attendees. The visual appeal of the stall added an extra wow factor over regular scoop ice cream and the flavours were interesting and delicious! Thanks to the team for all their hard work and the friendly atmosphere they helped to create, both of which contributed to a very successful event!
Pei
I hired Jason and his team for my 18th birthday party. Due to some unforeseen circumstances, it was moved to London and despite all the extra effort and inconveniences, Jason was still willing to help serve at my party. On the day itself, all my friends were highly impressed by the rolled-ice cream, the presentation, the unlimited toppings as well as the fantastic taste. I would highly recommend Roll Me Up and am super grateful to Jason for coming out to my party!