Luxury Rolled ice
cream
hire for weddings.
Congratulations on your forthcoming wedding from everyone at Roll Me Up. 
Deliciously creamy rolled ice cream cart hire for your wedding day, certainly adds to the unique and special experience, that every wedding is. Our luxury ice cream roll cart hire packages will be perfect for you and we guarantee we'll add the WOW on your special day. 
Whether you would like us to serve the guests on entrance, whilst photos are being taken or an afternoon or evening treat, the guests will love the interaction and fun that ice cream rolls bring. We have catered at wedding venues up and down the country, take a look at some of the wedding venues here we've worked with.
Booking is easy, fill in your details, and we'll offer a quote bespoke to you. On the day we'll rock up to the venue and serve your lovely guests the most amazing ice cream rolls in the UK.
Take a look at our various rolled ice cream carts here.
The WOW factor.

We know that every wedding is special, that's why we offer a very bespoke service for the best day of your life.. Your guests will be amazed at the creativity, flavours, fun and taste that we will bring to your big day.,
Various wedding packages available.
We can also offer personal branding of our ice cream cart and offer guests a selection of the finest handcrafted cream rolls they have tasted. It isn't always about the experience. The quality goes with it too.
We can create special flavours for your big day, unique to your wedding. We can be there for your wedding breakfast, the garden party or your evening do. If you want to know. how we can make your special day simply more amazing, please get in touch.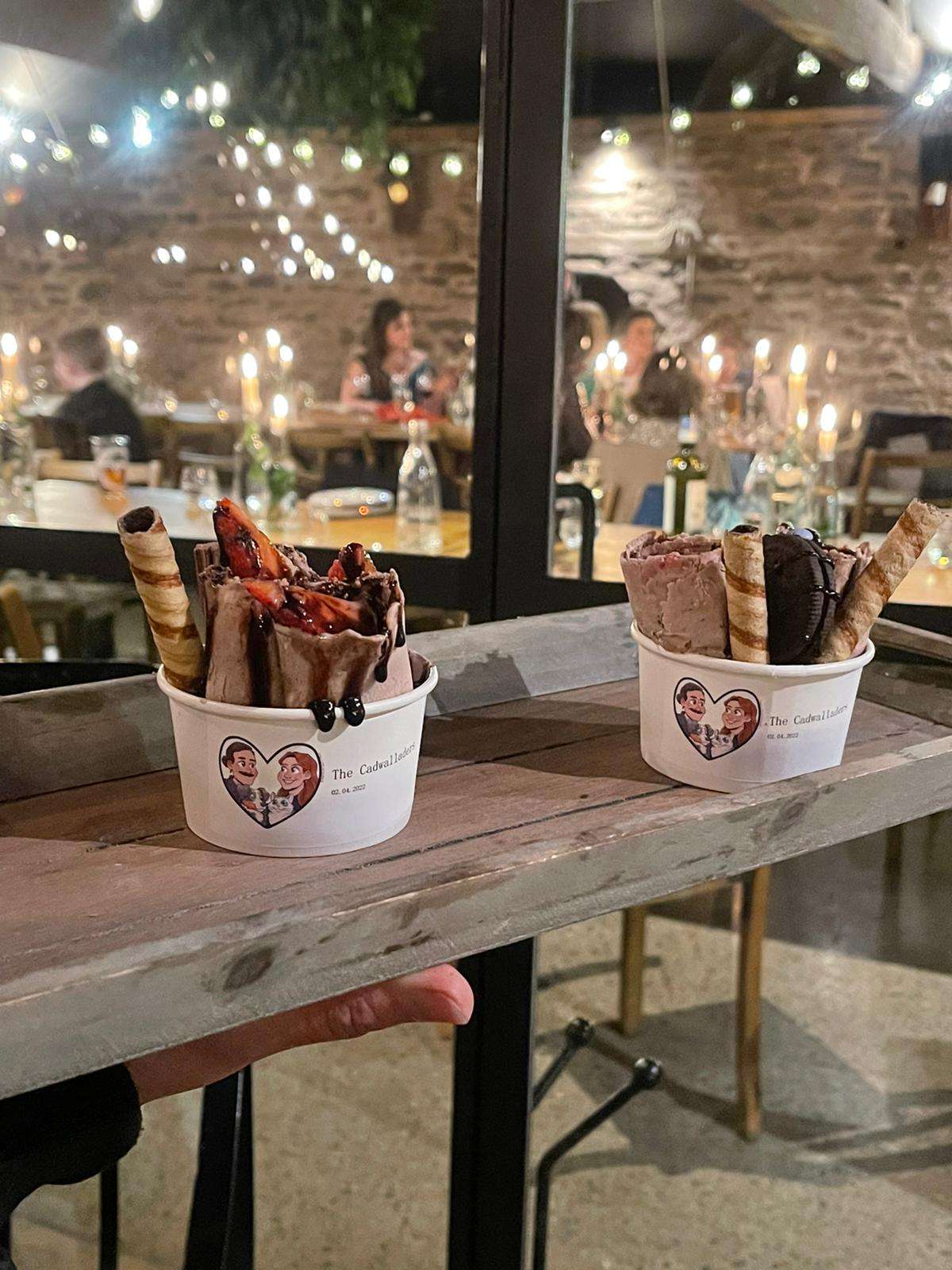 Whether it's for a wedding breakfast, a treat whilst doing the
wedding photography or an after dinner dessert whilst the
party's still going. The magic of ice cream roll making will
certainly entertain your guests.
Hiring our ice cream roll cart for your wedding creates an immersive delicious experience
Not only do we create the most amazingly delicious rolled ice
creams, we use a very special organic Coconut cream mix to offer Vegan
Rolled ice cream cocktails too.
Looking for some Oomph? How about a Mango Mojito, or Pina Colada?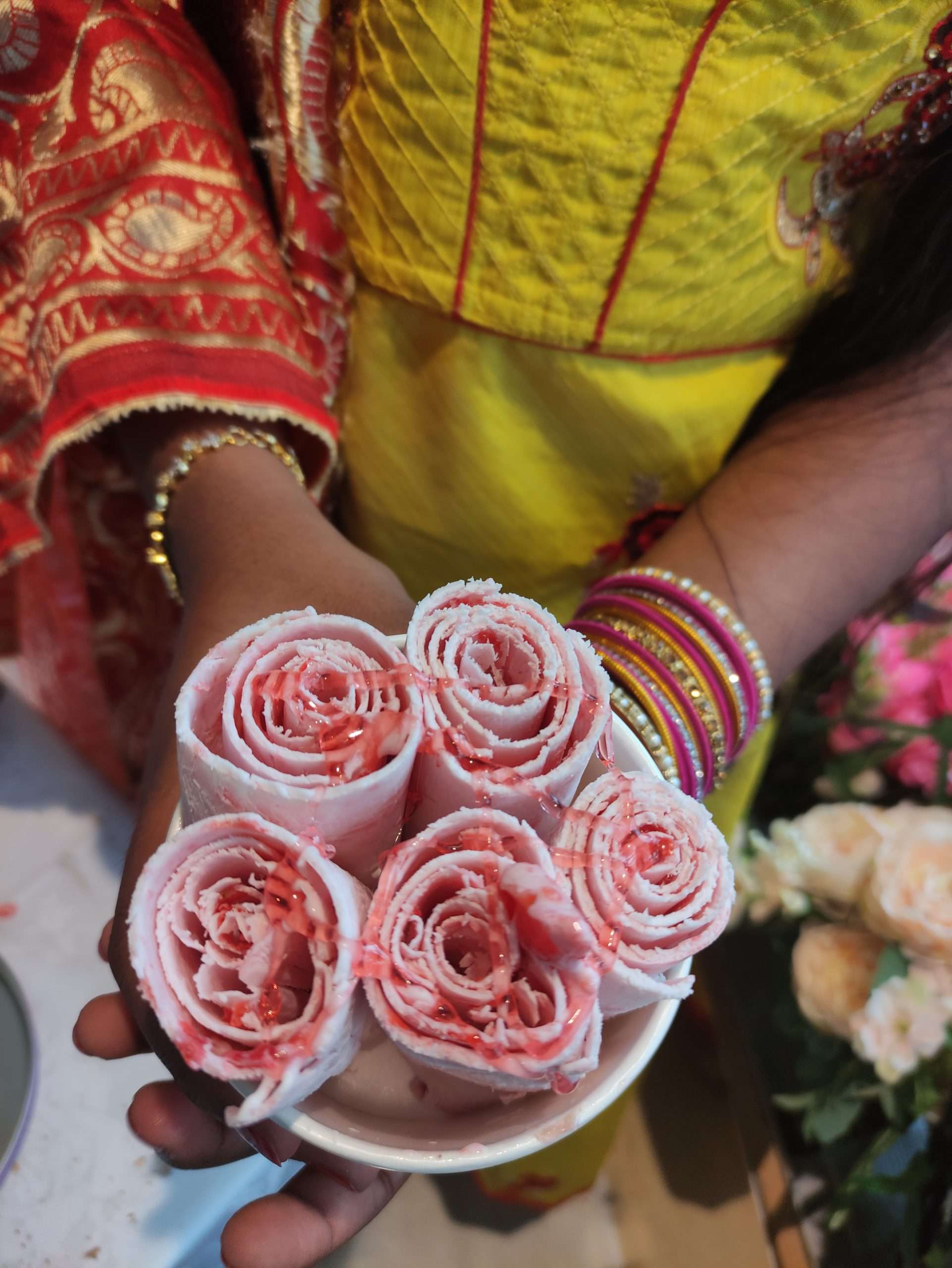 Our ice cream rolls add a theatrical performance to your big day, and have often been told by the guests and wedding couples we are "The Star Of The Show".
The unique mesmerising perfomance is not only satisfying for all those that watch, they taste incredibly delicious too.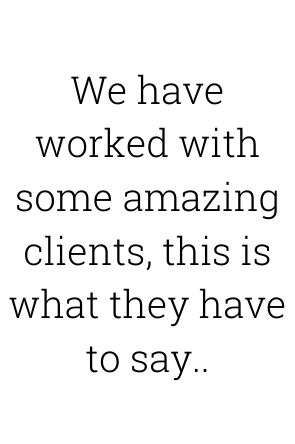 Roll Me Up's ice cream was a huge success at our recent conference. The flavours they create are amazing with a good mix of options, definitely something to please everyone. The ice cream is colourful and fun to watch them Roll it Up!
What a wonderful company and a delicious product! We knew we wanted roll me up as part of our wedding day from the moment we saw them, and Jason has really been on a journey with us through Covid! They have been helpful, communicative, friendly and I think easily our lowest maintenance supplier - nothing was too much trouble. The day itself was drama free and the cart itself looked fab 🤩 all the guests lovedddd the icecream, as did we and it was a magical part of our wedding day. Huge thanks to Jason and Oi, couldn't recommend them highly enough
Truly amazing ice cream that lots have described as the best they've ever had. Super friendly and an allround great service. Would hire again in a heartbeat
Roll Me Up were a pleasure to have serving our crew! Their ice cream was absolutely delicious and they were so accommodating to our last minute requests & changes. Can't wait to have them back again.
I hired Roll Me Up for a pre-wedding party. Jason was absolutely brilliant, he was always available for a call prior to the event and always provided best suggestions. On the day Jason was on time, professional and provided a great service. Amazing ice cream!!! Would definitely recommend
We used Roll Me Up for our charity event with over 600 guests and received great feedback from our attendees. The visual appeal of the stall added an extra wow factor over regular scoop ice cream and the flavours were interesting and delicious! Thanks to the team for all their hard work and the friendly atmosphere they helped to create, both of which contributed to a very successful event!
I hired Jason and his team for my 18th birthday party. Due to some unforeseen circumstances, it was moved to London and despite all the extra effort and inconveniences, Jason was still willing to help serve at my party. On the day itself, all my friends were highly impressed by the rolled-ice cream, the presentation, the unlimited toppings as well as the fantastic taste. I would highly recommend Roll Me Up and am super grateful to Jason for coming out to my party!